Eastnets ISO 20022 Standards solutions
Solutions for Swift, UAE-NPSS, Target 2, Euro1, SEPA, & other clearing infrastructures
Fast, Safe, and Easy migration to ISO 20022
All financial institutions need an ISO 20022 solution. ISO 20022 migration offers significant opportunities in the form of improved straight-through processing, richer payment data, enhanced interoperability, and ensuring continued regulatory compliance.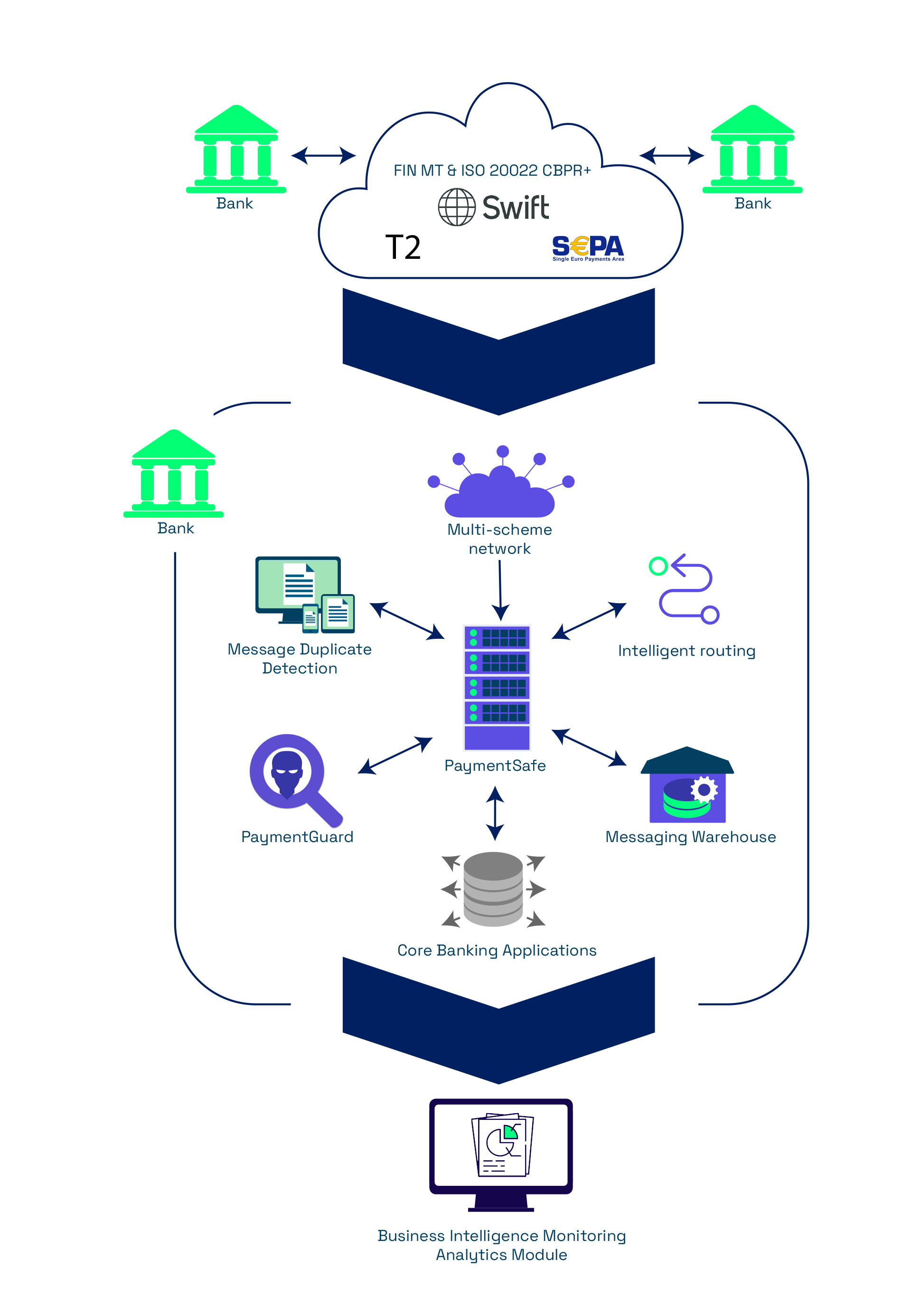 Key features
Proven, native ISO 20022 multi-scheme solution
Benefit from a proven, native ISO 20022 multi-scheme solution to orchestrate the translation, transformation, enrichment, screening and optimisation of any payment flows against standard libraries with a minimal impact on your existing applications. Manage the network relationships for each channel at the pace of your migration readiness: route and filter MTs and MXs according to your relationship authorisations, service costs or speed SLAs. Learn more about Eastnets PaymentSafe Solution.
Advanced monitoring of your payments and exception alerts
Our Business Intelligence (BI) tools give you a complete view on your business and operations activities for all payment and cash management transactions, in any format or scheme, ISO 20022 or not, and across any platform, jurisdiction, or corridor. During co-existence, the solution will provide you with all the formats, whether ISO or MT, related to the same fund transfer. Learn more about Eastnets Messaging Warehouse & Analytics Solutions
Detect and track duplicates.
Detect and track duplicates. Our real-time detection tool will help you prevent duplicate messages (whether ISO, MT or proprietary formats), whether full, partial, truncated (FinPlus), with user defined criteria (e.g.: same or different reference (UETR) for the same funds transfer) from being processed twice. This will help you avoid the investigation and refund burden while preserving your counterpart relationships. Learn more about Eastnets Messaging Duplicate Detection
Protect from new channel related fraud
A real-time payment fraud detection solution, offering a wide range of self-adapting controls, enabling you to intercept and act against suspicious transactions across different payment channels. ISO20022 enabled or not, our solution can support and protect your migration journey. Learn more about Eastnets PaymentGuard Anti-fraud Solution.
Product components
Universal Translator
Transform message types using an intuitive graphical user interface, without a need of development team or technical skills. The Universal Translator can create and modify libraries for any ISO 20022 payment scheme, including CBPR+, SEPA SCT/SDD, Target 2 and TIPS, EBA STEP2 and RT1 rulebooks.
Eastnets Artificial Intelligence modelling
Use a variety of bespoke AI models in real-time, supervised, unsupervised. Proprietary to provide financial compliance risk scoring, false positive reduction (SafeWatch Screening and AML), advanced fraud detection, alerting capabilities (PaymentGuard), and optimal, fast, and cost-effective payment routing (PaymentSafe).
Eastnets Intelligent Payment Workflow
Experience complete payment workflow automation between core banking systems, front/back office, domestic or international channels such as Open Banking, SWIFT networks – with a suite of message processing services to create, enrich validate, and route financial instruct-messages in a cost efficient and SLA compliant way.
Eastnets Payment Messaging Library
Translate between a raft of differing messaging standards – including UAEFTS, KNPS, SEPA and Target2 – without making changes to your existing system with a built-in translation library.