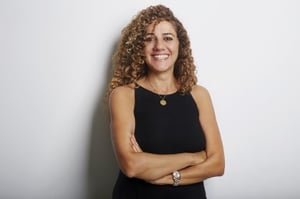 Deya Innab - Chief Strategy and Product Officer

As Chief Strategy and Product Officer, Ms. Innab is responsible for developing EastNets' global growth strategy in alignment with the company's corporate vision, and translating this strategy into innovative solutions and products that meet the evolving needs and the dynamic nature of the industry.
Ms. Innab led several development initiatives for EastNets, including the industry-leading ChainFeed™ solution — a secure real-time watch list feed over the blockchain. Ms. Innab was also the author of the global survey report: How Banks Are Combating The Rise of Swift Cyber Fraud? and has contributed significantly to many other thought leadership projects in her capacity.

Prior to joining EastNets, Ms. Innab's career encompassed working for several entrepreneurial tech firms as well as the multinational professional services network - KPMG. In her capacity she served clients worldwide.

Ms. Innab is a graduate of the University of Jordan, where she gained a degree in computer science. In addition, she has attended a number of prestigious executive development programs including INSEAD's flagship intensive Advanced Management Program (AMP) in Fontainebleau France and the Orchestrating Winning Performance (OWP) management program at IMD in Lausanne, Switzerland. Ms. Innab is a certified board of directors by Jordan Institute of Directors – IFC.