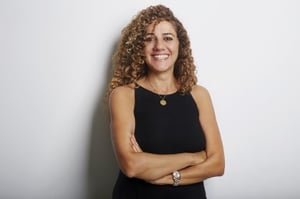 Chief Strategy and Product Officer

Deya Innab's role is central to the future of EastNets. She plays a pivotal role in developing the company's solution family, and more recently has assumed the role of the Chief Strategy and Product Officer. Innab is orchestrating the work of multiple teams that are implementing EastNets' transformative Strategy.
Innab's 20 years of regional and international experience intersects technology and business. Before EastNets, she had worked at Zeine Technological Applications, Estarta Solutions, and KPMG. At Estarta she managed projects for enabling enterprise IT and communications technology, serving global clients throughout the US, Europe, and the MENA region. At KPMG, she operated across Bahraini and Qatari markets in her capacity as Senior Manager of the IT Advisory, focusing on serving the large corporate clients. She started with EastNets in 2011 as Group Product Development Management Director, rising up to the top position of Chief Strategy & Product Officer in 2016. Since then she's been focused on EastNets long term strategy, which is delivering an integration of new technologies into the company's solution family, including artificial intelligence and blockchain.
Innab graduated with a computer science degree and later attended the Orchestrating Winning Performance (OWP) management program at IMD in Lausanne, Switzerland, as well as other strategic planning and executive programs.